Financial Times(FT) published its global ranking of Master in Management on 28th September 2020, Antai College of Economics and Management (ACEM) of Shanghai Jiao Tong University (SJTU) ranked 23rd in the world,the best Master in Management program in China. Among the keys with a higher weighting in the ranking, ACEM data are among the top in the world, with a salary increase of 125%, ranking first in the world for four consecutive years.
# No.1 Employed at three months
# No.9 Value for money
# No.13 Weighted salary
# No.8 Career service
# Aims achieved 84%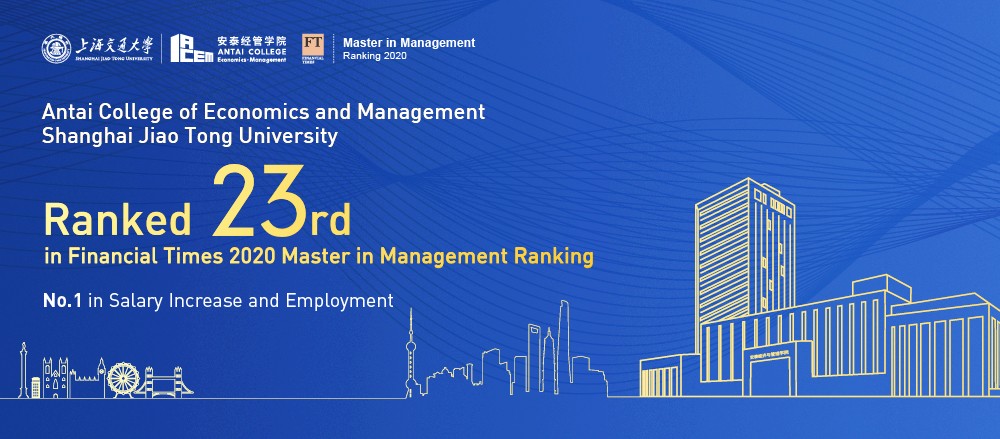 The curriculum system of the Master in Management programs at ACEM is fully aligned with top universities in the world, combining solid management theoretical foundation, knowledge & skills of systems science, economics, mathematics, computer application with the latest research in related fields at home and abroad. On the basis of traditional management theories and instrumental courses,combined with industry and management practice in China, Antai work on improving the frontier courses in the discipline of management and improving students' technical abilities such as big data, deep machine learning, and computer programming.
Students' cutting-edge competitiveness in career development has been continuously validated by international rankings, and highly recognized by employers at home and abroad. ACEM has built a professional career development team, providing a full-course career counseling program, and providing professional and personalized career development services for students of different years in different programs at the bachelor's, master's, and doctoral levels as well as the MBA. In addition, students can fully and accurately understand various career options during their studies, thanks to the strong practice-oriented atmosphere of Antai College and regular themed exchange activities by the Career Development Association. Ms. Xiong Yujuan, a Master in Management graduate in 2017, is now a Senior Strategy Consultant at IBM. She believes that her study and practice at SJTU has equipped her with a solid basic foundation such as management theories and mathematical analysis, and has laid the foundation for her to be an excellent management consultant. Consultants need to provide structured solutions for customers. A variety of management courses at ACEM have helped her to fully understand the development history and common theoretical framework of management and enabled her to have a smooth transition in the initial stage of her career. On the other hand, consultants also need to provide evidence for their analysis by establishing a quantitative financial model. The courses such as multivariate statistical analysis and operations research that she studied have made her competent for her job and they have played an indispensable role in improving her professional ability.
Antai has been carrying out in-depth cooperation with the top 50 business schools in Europe and America, building a cooperative network with top business schools in key countries and regions around the world, including countries along the Belt and Road Initiative (BRI), and has laid out a global network to export its international influence as a world-class business school in Asia while being aligned with China's major national strategies. 41% of teachers at ACEM have doctoral degrees obtained overseas, and many international teaching staff have been introduced, and ACEM can conduct semester exchange programs with over 100 international colleges and universities (about 50% of them are among the world's top 100). Each year, 20% of its postgraduates study or work as interns abroad, while over 200 international students come to Antai as exchange students. In addition, Antai has partnered with world-renowned universities including Purdue University, IE, ESCP and the University of Southern California on dual-degree programs.
The Master in Management of Antai is the first academic MiM program in China to take part in the FT Rankings and remain in the global top 50 for 12 consecutive years,the best Master in Management program in China for 7 consecutive years.
Tags:Master in Management China,best Master in Management program in China