On Jan. 27, 2020, the Financial Times (FT) Global MBA Ranking 2020 was officially released, and the MBA program of ACEM, SJTU ranked 37th, among the world's top 50 together with other three core programs, EMBA, EE and MIM. This achievement has not only marked a solid step for ACEM's MBA program to become a world-class MBA with Chinese characteristics, but also evidenced the steady improvement of the quality and international reputation of the program.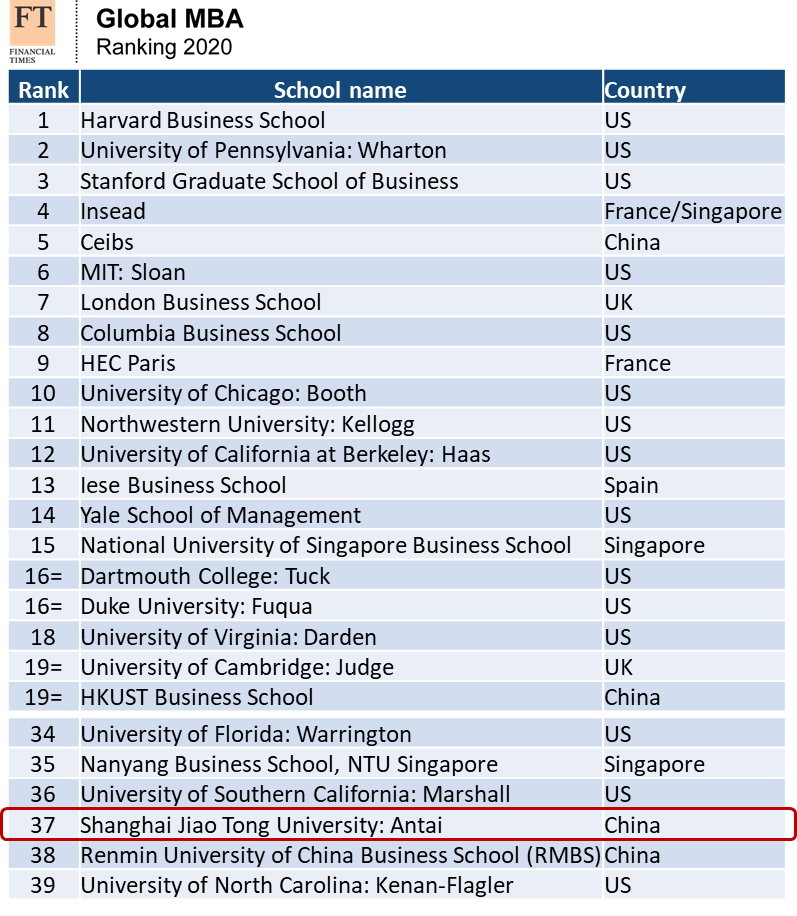 Dazzling performance of core indicators that are widely recognized at home and abroad
The reason why the FT ranking is so widely recognized is that, on the one hand, its criteria for participation and selection are stringent and its data sources are objective and independent; on the other hand, among various FT rankings, the competition for MBA ranking is the fiercest. Candidate schools offer almost all the flagship MBA programs that can be found in prestigious business schools in the world, making the competition truly a "battle among the strongest".
Among the 20 different indicators, the ones attracting much attention are still those reflecting the return on investment after enrollment, such as employment rate, weighted average salary and salary increase rate. Among these core indicators, ACEM's MBA program has continued to perform strongly. In terms of employed at three months, ACEM's MBA program has maintained an outstanding performance of 100% for many years, consistently ranking top in the world. The impressive data of 100% employment rate for the past seven years has fully demonstrated that not only the MBA learning experience at ACEM has significantly improved the knowledge structure and personal ability of the graduates, but also the appeal and authority of ACEM brand in the industry has guaranteed the employability of its graduates.
In terms of salary data, the alumni's weighted average salary three years after graduation has reached US$130,736, an increase of nearly 16% over the last year; the salary increase rate has reached 201%, ranking the top three in the world for seven consecutive years. These data reflected the industry experience, alumni network and potential opportunities obtained by graduates of ACEM's MBA program during their study, which enable them to have more channels and opportunities to facilitate the "monetization" of their abilities and skills.
Short steps lead to greater things. The pragmatic and enterprising MBA program of ACEM has not only come into the spotlight on the international stage and competed with those of the world's top business schools, but also exceled in domestic authoritative assessments: the "Business and Management" subject of SJTU is the only economic and management subject in Shanghai included in the "Double First-class" list of the Ministry of Education (MOE); in MOE's fourth round of subject evaluation and the first assessment of professional degree level, the first-grade subject of Business Administration and MBA of ACEM was proud to be graded A+.
In ACEM Dean Chen Fangruo's words, "With the joint efforts of several generations of ACEM people, ACEM has made great progress and has now ranked among the forefront of Chinese business schools. We have obtained all important international accreditations, made excellent achievements in many international and domestic subject evaluations and rankings, and achieved fruitful results in talent training. ACEM's degrees are the dream goal among numerous students".
Highlights of value-added services, industry-university cooperation as a key to the future
In this year's FT ranking, ACEM's MBA program ranks 13th globally in terms of value for money. In addition to its excellent return on investment that has always been recognized by students and alumni, ACEM is also committed to providing students with more value-added services to make their "MBA journey at ACEM" worthwhile.
"We must not use the past knowledge to teach current students to solve future problems." Yang Jie, Party Secretary of ACEM, summarized. More and more applicants have realized that their MBA experience must not be limited by just "learning". Laying a solid foundation for students is indeed important. However, as a cradle of future management elites, whether a business school can help students face or even foresee the practical issues in the industry, build a broad communication platform that brings together alumni, students and business leaders, clear away the gap between industry and university for students, and truly enhance their ability to solve practical problems in working scenarios is an urgent issue that a responsible first-class business school should think about.
Therefore, after taking office, Dean Chen Fangruo pushed for industry research as the direction of the reform of the business school and put forward the development strategy of "crisscrossed development and unity of knowledge and action". Dean Chen said, "The failure of effective combination of theory and practice is the current dilemma faced by business schools worldwide. ACEM hopes to establish another vertical model of knowledge creation on a horizontal basis, conducting industry-oriented in-depth research, and shaping a sound ecosystem for business studies." Today, when China is demonstrating a stronger centripetal force to the world and the business and management models of Chinese enterprises are increasingly recognized in the world, ACEM will narrow the distance between research, teaching and practice again through industry research, break through the predicament that academic circles and industries cannot communicate smoothly due to the barriers between industries and universities, truly combine academics and practice, catalyze interdisciplinary studies, develop more influential management theories on the basis of solid practice, and bring these theories back to the classroom to nurture teaching and form a virtuous circle between practice, academics and teaching. This pioneering work has fully demonstrated the determination and responsibility of ACEM as a top Chinese business school.
"ACEM dares to be the first to provide students and alumni with a broad-based platform that allows them to communicate with other colleges, programs and disciplines and conduct same-frequency dialogue with various industries by advocating industry research and offering industry community classes," Associate Dean Liu Shaoxuan emphasized. "Bringing together students, alumni, first-class faculties and industry leaders to form a 'four-dimensional' ecosystem, we are committed to training interdisciplinary talents who are well versed in management while proficient in technology and truly meet the needs of enterprises." Gathering excellent students, relying on top faculties, and joining hands with industry resources, ACEM has not only opened a window for students to communicate with industries, but also integrated corporate social responsibility into the curriculum system and teachers' precept and example, as setting high moral values and cultivating persons is always a pursuit engraved in the hearts of ACEM people, and exporting Chinese wisdom, aligning with national strategies and serving regional development is a glorious mission always held by ACEM people.
ACEM Industry Community Class is a pioneering and highly forward-looking talent training model, which divides classes by industry, connects alumni, students and undergraduate, postgraduate and doctoral students of ACEM's MBA, EMBA, EE and GPER programs, and invites well-known industry leaders with practical management experience to teach together with responsible professors of ACEM. It provides the college and alumni with a path that has a deeply evolved supply-demand model and builds a stage and ecosystem for shared success. The official start of the industry community class marks the incorporation of ACEM's industry research philosophy into its curriculum system.
Multiple levels of overseas exchanges, profound experience in entrepreneurship education
"International vision and Chinese perspective" has always been the school-running tenet of ACEM's MBA program in terms of internationalization. In the FT ranking, the proportion of international students of ACEM's MBA program, which is 43%, is far ahead of those of other business schools in Mainland China. Over the past years, the number of international students applying and enrolled has remained high, and the background of students and the diversity of student sources have also made ACEM well-positioned among business schools in Mainland China. ACEM's MBA program has provided students with a variety of opportunities to study abroad, including dual degree programs, overseas exchange, overseas study tours and international course modules. And MBA students are also given more options because of the time flexibility. In recent years, more than 300 students and alumni of ACEM's MBA program have participated in study tours per year, with the routes involving US East and West, UK, Germany, Northern Europe and Israel. Cooperation with top international business schools, carefully arranged study tour schedules, and curriculum systems based on the advantages of the university and in combination with cutting-edge industrial developments demonstrate that ACEM has always attached great importance to the internationalization of its MBA program.
Experience is the best teacher, and innovation wins the future. The college has set up entrepreneurship-related courses, competitions and funds, and has established a systematic system from theory to practice. China MBA Entrepreneurship Competition, a well-known brand event with a history of 17 years, set up five divisions in 2019 and attracted 313 teams to participate, and put more emphasis on post-investment management and normal entrepreneurship education. The first "Leadership Class for Elite Entrepreneurs" set up by ACEM's MBA program was jointly attended by alumni and students. Divided by industry and promoting in-depth practice, the class provides entrepreneurs of ACEM's MBA program with comprehensive assistance and supportive company through customized courses, professional guidance of course tutors and entrepreneurial mentors, as well as multi-level exchanges such as corporate visits, industry salons and private board of directors, supplemented by resource platforms such as alumni associations and industry committees.
Taking root in China, aligning to top business schools in the world, inheriting the pragmatic and enterprising spirit, and daring to be the first in making innovations, ACEM's MBA program will continue to practice "the unity of knowledge and action, and excellent development" to contribute more industry experts who are both practice and management-oriented for China's social and economic development, taking firmer steps and making more unremitting efforts toward a world-class business school and world-class MBA program!