On May 11th, 2020, the Financial Times (FT) released the Financial Times Executive Education rankings 2020. Antai College of Economics and Management (ACEM) of Shanghai Jiao Tong University ranks No.28 worldwide, while its open courses rank No.29 in the world.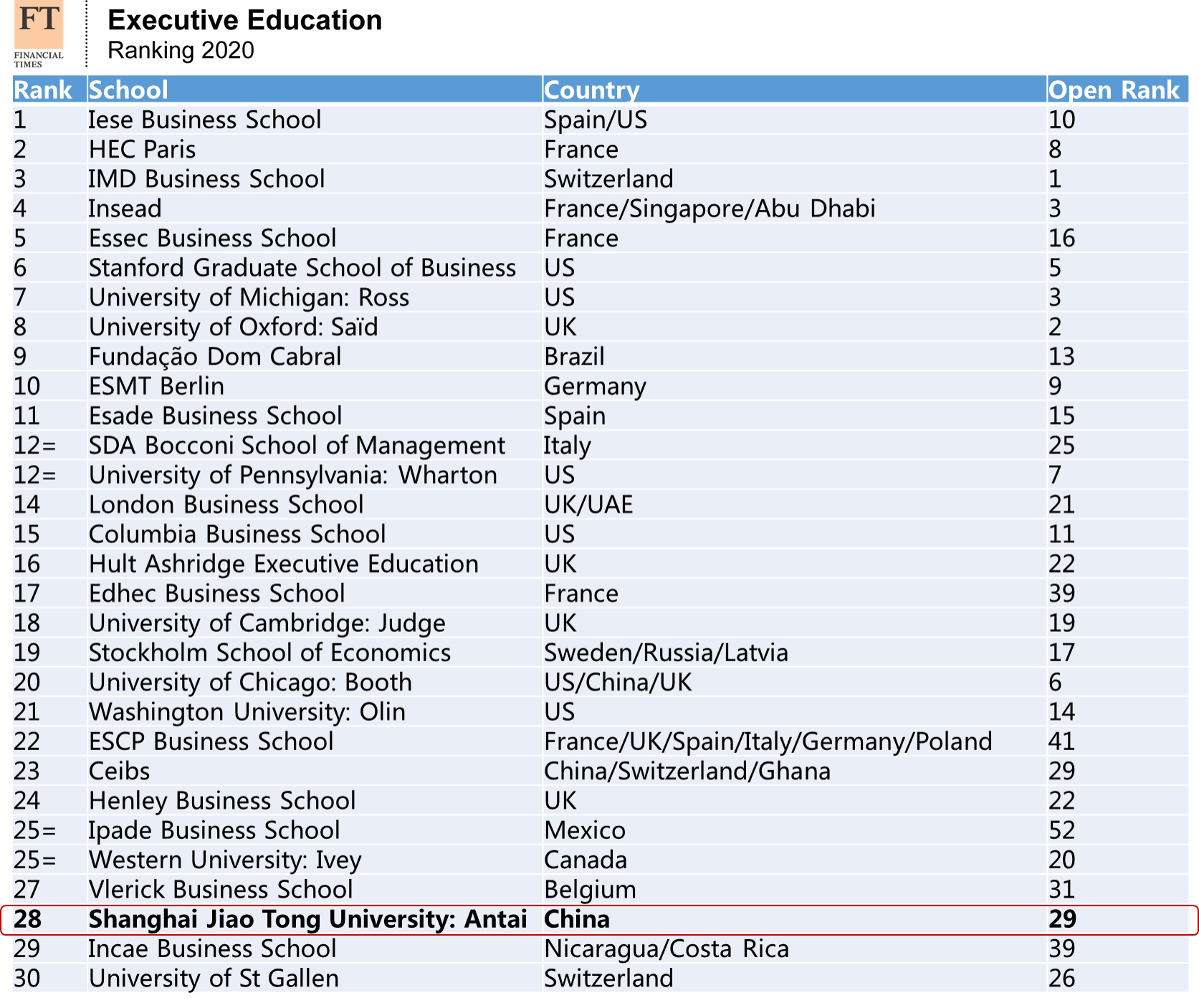 The FT ranking is one of the most authoritative international rankings in business school education. Including 15 to 16 sub-indicators in 2 categories, the FT Executive Education Ranking comprehensively evaluates the ability of business schools to carry out custom courses and open courses for corporate senior managers. Based on the course value assessment from the students, the independent research by FT centers upon student satisfaction, comprehensively measuring the college's project design, curriculum development, faculty, and international strength.
The open courses of ACEM rank No.29 worldwide. 7 sub-indicators ranks 2nd in Asia and has remained top2 in Asia for 3 consecutive years. These sub-indicators include Preparation, Course design, Teaching methods & materials, New skills & learning, Follow-up, Aims achieved, and Facilities. Globally speaking, ACEM ranks No.7 in terms of Follow-up and No.17 for Preparation. This achievement once again confirms the international competitiveness of ACEM's Executive Education and shows the full recognition of the project by enterprise managers.
For customised courses, ACEM ranks No.11 worldwide in terms of Follow-up, and No.2 in Asia in terms of Value for money.
Resolutely cultivate "world-class business leaders rooted in China"
Dean of ACEM, CHEN Fangruo said, "The international ranking once again affirmed our college 's exploration of creating a virtuous circle of practice, academics, and teaching. The executive education program serves as the college 's external window, with the goal of cultivating business leaders who will lead China and change the world. Starting from enterprise development cases, we explore the bottlenecks in enterprise development with attention to the iteration of new technologies and new forms of business, and excellent teachers, to create a curriculum system and content output with enterprise-specific and industry-wide solutions, truly allowing enterprises to obtain the intellectual support needed for development. With the accumulation of the past 3 decades, Antai Executive Education has gathered more than 80,000 corporate alumni and numerous industry elites, building up an alumni platform for interactive sharing and lifelong learning in various forms. Professors of all disciplines and experts of all industries gather here for continuous discussion focusing on different companies and industries, delivering an excellent interpretation of Antai's strategy of 'horizontal (academic) and vertical (industry) scholarship plus reinforcing each other and connecting theory with practice'."
Adhering to the educational philosophy of "Chinese wisdom with international vision", Antai Executive Education Program, starting from enterprise management practices, continuously optimizes the training curriculum system while broadening the form of training courses, leading and realizing the accurate and fast response of training transformational leaders to provide overall talent training solutions for entrepreneurs' lifelong learning and learning organizations forging. In parallel, the alumni ecological platform built upon industry, interest, and region provides strong support for alumni development, industry research, and content output of executive education projects. With the mission of providing solid intellectual support to promote corporate development, the Executive Education has established a three-dimensional curriculum system of "open-custom-international" courses.
--Open courses
Through modular and systematic learning, students can fully master modern enterprise management theory and decision-making methods, and gain a deep understanding of the business models and logic of domestic and foreign enterprises. In addition, through value transmission methods like academic and humanities lectures, mobile classrooms, and summit forums, our courses will offer a broader horizon, increased business sensitivity and humanistic spirit, and enhanced capabilities in real-world practice for students.
--Customised courses
Guided by the development strategy of the enterprise, the course builds an iteration plan for the talent cultivation of enterprise, and prepares solutions and a learning map for the cultivation of high-level talents through the dimensions of technique, business, and management.
--International courses
With cutting-edge theories, Chinese cases, and Antai elements, the course helps foreign entrepreneur students or foreign-funded enterprises to fully understand China's customs and social, political, economic, commercial, and legal environment in the process of seeking development in China, and to find out industries with potential for major future development, and business innovations worth promoting within China's vast commercial market.
LIU Shaoxuan, Associate Dean of ACEM, said "In the future, Antai Executive Education will continue to dynamically promote the supply-side reform of content output, firmly root in the management practice in China, help enterprises promote social and economic development, and 'let executive education reach the soul of business '."
Steadily climb to the peak of "world-class business school"
The global ranking of ACEM is generally stable. In the QS World University Ranking 2020, Antai continues to maintain the top 100 globally in 4 disciplines related to economics and management. Among them, "Accounting & Finance" (39th globally),"Business & Management Studies" (44th globally), and "Statistics & Operations Research" (42nd globally) ranked among the top 50 in the world for three consecutive years. "Economics and Econometrics" is one of the 19 subjects in SJTU that entered the top 1% of global ESI 2019, ranking 3rd among mainland Chinese universities in the 2019 US News Best Global Universities Rankings. With the outstanding performance of the 4 core teaching programs of Master's Degree in Management (14th in the world), MBA (37th in the world), EMBA (11th in the world), and Executive Education (28th in the world), our college has ranked 1st in FT Asia-Pacific Business School for two consecutive years and is the only business school in China whose 4 core teaching programs all rank among the global top 40.
While gaining an international reputation and wide influence, ACEM remains top among the domestic business schools. Discipline construction stands firmly, and hold a lead domestically. The "Business Administration" first-level discipline was listed into the "Double First-Class" Construction Initiative, ranked A + (top 2%) in the 4th round of discipline evaluation by the Ministry of Education, and was approved as the first batch of National First-Class Undergraduate Discipline Construction Sites.